Explore Georgia's Barrier Islands and......
The Beauty of our Coast in Darien, Georgia's Gem of the Golden Isles
Explore undeveloped beaches and Georgia's barrier Islands. We will help you make arrangements for tours and day trips to Sapelo Island or Black Beard Island; or maybe to just cruise our tidal waters learning the history and enjoying the beauty of McIntosh County and Darien.
Blue Heron Inn offers stunning views of expansive marsh and winding tidal creeks. Every guest room opens to breathtaking views of marsh, estuaries and Georgia's barrier islands. Large luxurious rooms decorated in coastal elegance, are provided with southern hospitality at its best. The innkeepers' attention to detail will wrap you in comfort.
The property and surrounding area is one of the finest birding and nature locations on the coast. Rates generally run $139-$160/night. Click on
"check availability"
for current rates.
Closest lodging to the Sapelo Island ferry and Visitor Center. Minutes from exceptional nature and birding venues including
Harris Neck Wild Life Refuge
.
Click Here for Video
of Georgia's Coastal Beauty
Centrally located along Georgia's coast Blue Heron Inn is the perfect place to use as your headquarters while you take day trips to Savannah, various barrier islands (Sapelo Island, Saint Simons Island, Jekyll Island) and the Okefenokee. Also a great stopping point if you are looking to get off Interstate 95 for a good night's rest.
Your innkeepers will be happy to help with arrangements to tour or visit Sapelo Island. Cumberland Island, Black Beard Island and other remote locations. Jan and Bill will also let you in on their secrets of the best places to visit all over the coast that most tourists miss.
Plan a day trip to Savannah, Saint Simon's Island or Jekyll and don't forget the Okefenokee.
A full breakfast is served every morning. Our breakfast menu varies offering a different delectable dish each day. Vegetables, herbs and garnishments are picked fresh from the garden each morning.
Surrounded in colonial coast beauty, the grounds are great for strolling, exploring and enjoying nature. Birding, stargazing and kayaking are easily done right at the inn. Kayaks for guests' use and bicycles are available. You don't want to miss Bill's Saturday Night Bon Fire when guests, neighbors and locals come to offer stories and legends of the local area.
Sit on the dock or maybe you prefer a swing for two were you can watch the tide ebb and flow. Innkeepers, Bill and Jan are happy to help plan your itinerary and give tips on local restaurants and activities.
Planning a visit to
Sapelo Island
? Let your innkeepers help. Blue Heron Inn is the closest lodging to the Sapelo Island ferry and visitor center.
Maybe you would like to explore
Black Beard Island
named for the pirate who captained 'Queen Anne's Revenge' and made the local waters his home while evading the British Navy. Captain Baisden is looking forward to boating you out to Black Beard Island and providing you with insight to the island and surrounding beaches.
Rates: $139-160 You can add an assortment of extras when booking......chilled bottle of wine at arrival, fresh flowers etc. We are also happy to take your reservation by phone 9am-8pm.

What do Our Guests Have to Say about Blue Heron Inn?


"You will not be disappointed! The rooms are beautifully decorated and the view is spectacular from sunrise to sunset!"

"The B&B is incredible. It's a super location off of the beaten track on the lowland coast of Georgia."


"
stopped in Darien @Jan and Bills B&B. Once I found it through the forest a small paradies opens. I have had a very nice stay with great hosts and even the opportunity to use a canoe and interact with a pelican. I definitively recommend Blue Heron Inn and look forward staying there again when I am back in the area. Best regards from a Swiss traveler."
Winter sunrise on the marsh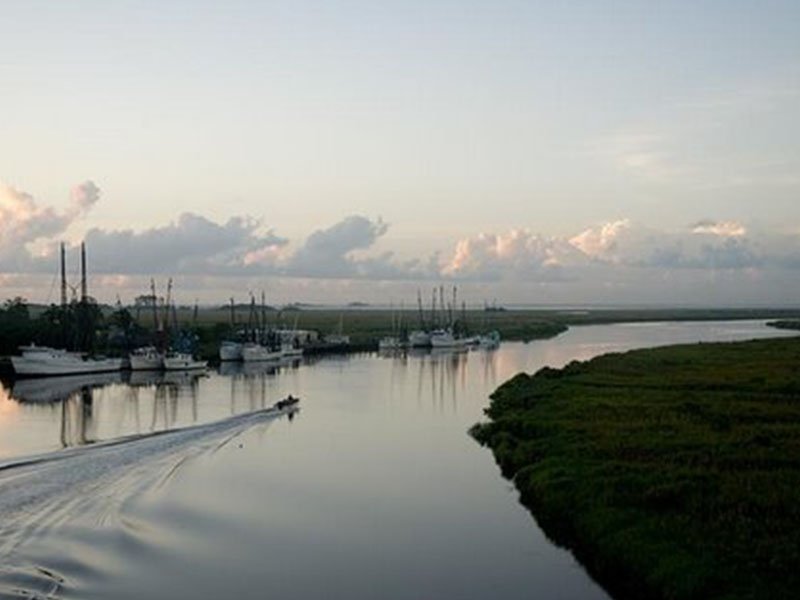 Darien River, Darien Georgia
S
now Birds
We are just 8 miles off Interstate 95. Enjoy a quiet relaxing night off the interstate!
Off at exit 58 and back on at exit 42 or vise versa no loss of time or miles. Fantastic local restaurants.
Sapelo Island
2018 Reynolds' Mansion
Holiday Tour

(first three weeks of December only)
Make your reservations now.
The Friends of Sapelo will have the mansion decorated 'Over the Top'
This is the only time to get a full tour of the mansion, learn the history of the families that made the South End House their home.
And enjoy brunch/breakfast in the dining room.
Blue Heron Inn
Gift Certificates Available here

Local adventures and fun things to do.
More Things to See and Do
Visit Sapelo Island

Sapelo Light House


Rent Bikes on Sapelo



B
each on Sapelo